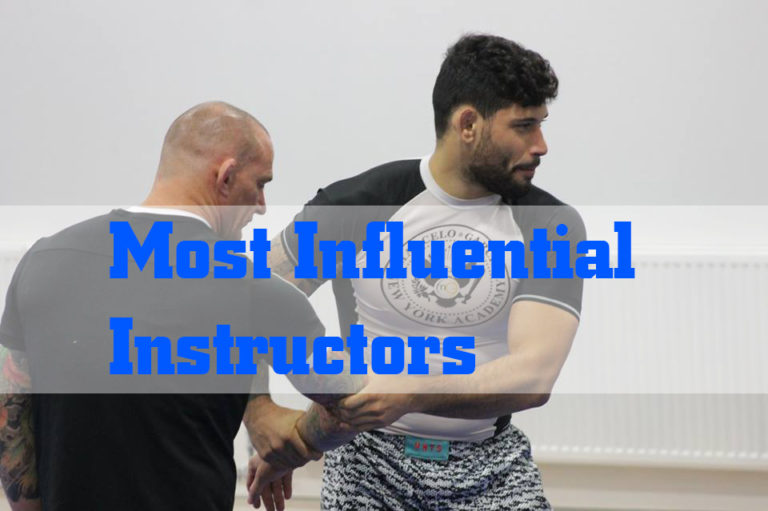 Most influential instructors
As you may all be aware, I have been coaching for some time. I probably started helping out with classes, taking warm ups etc in my early days as a purple belt, and quickly grew from there. My main career at the time was in fitness and personal training, and had been for a long time, so I was already very used to coaching and teaching as a process anyway. These days I coach regular classes, as well as seminars… with a moderate degree of comfort – but back in the early days there was a lot more nerves! I do recall that just before teaching my first seminar at Leicester Shootfighters (where my grappling training all started back in my uni days) I had to spend a few minutes, "talking to God in the big white telephone" as Billy Connolly says! But overall, the process of teaching has become easier over time.
I think a lot of that is the self-evaluation I have always tried to do, and model the great teachers I have had, and been lucky enough to meet on my BJJ journey. 


The first influence of course being Nathan Leverton, head coach at Leicester Shootfighters. He has a wealth of knowledge in all things martial arts; and has been a massive influence in the growth of the grappling scene. As an early founder of SFUK, to coaching UFC competitors, to most recently joining the judging panel for events like Polaris, to name but a few of his successes. One thing that always struck me was Nathan's ability to break a movement down into mechanics; why this move happens, what it is aiming to do. That demonstration of such an intricate understanding means he can always find the most efficient response to a scenario, and do that in real time. Nathan instilled in me the idea to always aim to look for that deeper understanding on a "why" and not just be satisfied with repetition of something for the sake of learning parrot fashion. As the coach I am now, I may not know a lot of moves, but because I can understand the mechanics and principles of a pin / submission etc, then I can work out the answer as needed. Nathan was, and still is a fantastic coach and friend, and everyday I aspire to be more like him both on and off the mats.


Another massive influence has been my BJJ coach, Eduardo Carriello, who awarded all my belts from blue to black. Getting my black belt was a fantastic experience, and one that I will never forget, but I always remember Eduardo for so much more than that. He would always make time to make the learning process fun, and welcoming. I can remember occasions in training with him where my heart would be pounding, my mind racing because of trying to recall techniques we just covered, but I'd also be roaring with laughter at the same time! There were times on the road to faixa preta, where I hit some dark times (as I am sure we all do) so having that space, that Eduardo set out to create, to learn but also have so much fun and feel support made such a difference! I would like to think of my classes now, all having this feel as well – perhaps a technique goes over my students heads today, but did they all leave smiling, did we have a few laughs on the way… This is as important as the facts behind the movements, the fun on the way.
I try to draw something from every coach I see and experience. Maybe a way of explaining something, maybe some of the body language, something in their mannerisms, an idea, whatever I can. There have been many other influences from guest coaches, but John Will is a firm favourite of mine. One of the original "dirty dozen" black belts, I was lucky enough to attend my first session with him when he visited Leicester Shootfighters a couple of years back. I was blown away by the process and strategy he gives to teaching, and I am very much looking forward to a 3rd seminar with him in the coming days (as I write this, 2 days and counting). It's rare he is in the UK, so I always make the effort to travel, in order to attend a class with him. The man is an encyclopaedia of martial arts knowledge, but he also has some fantastic life stories and insight, to keep his audience hooked. I remember John coaching his classes in a systematic format. Everyone performs the move step by step, so that he can scan across the room, and know at a glance that everyone is doing the move correctly. This efficiency in teaching process saves a lot of time, and in groups like those that John attracts, every second counts. A big emphasis for John is using the time we have, so once a movement or drill is free flowing, do as many reps as possible. Reps make the difference in completing a move, so getting more correct reps will give you more chance of being successful with the movement. In essence, the very epitome of the idea to drill something until you cannot get it wrong… rather than just doing enough until you get it right!
This is by no means an exhaustive list, and these are not the only benefits I have gained from experiencing those coaches mentioned above, merely a snapshot! I could go on for hours, but as usual, I am aware that the word count is ever increasing! I guess the point is, I still have a lot to learn, and I will keep doing my best to grow. The best coaches are those that continue to develop themselves and their methods, and in an ever evolving beast, like martial arts and grappling, its vital to keep this open approach to new ideas. Ultimately, the best coach for you, is one that you enjoy working with, being around, and feel you get the type of support you need. I've been lucky in having a wealth of that, and I hope you all do too.
Luke Spencer is a BJJ black belt under Eduardo Carriello, GB Oval, currently teaching put of Southend Combat Academy, and 1-2-1's, guest instructor at Leicester Shootfighters. Likes dogs, anything Canadian, pina coladas and getting caught in the rain!